THE TOP TEN Celebrity Jets
Gabe Weisert

Tom Cruise flies higher than the rest of us, literally. His Gulfstream IV arcs through the ether at 45,000 feet, roughly 10,000 feet above most commercial aircraft. By most accounts the man is generous and self-effacing, but when he's flying, he looks down on people.

Cruise enjoys several other high-altitude perks: His cabin air is completely refreshed every two minutes, as opposed to never. He can check email whenever he wants. And he's pressurized at 6,000 feet, as opposed to 8,000, so he's less fatigued when he shows up in Auckland for a premiere. Customs are a breeze -- the agent boards the plane.

The Gulfstream has been the alpha-male plane of choice for decades: Steve Jobs, Larry Ellison, Mark Cuban and John Travolta are owners. These men fly the way most people drive. As Senior Manager of Gulfstream Corporate Communications Robert Baugniet puts it, "you can go around the world in one stop." Shocked at the televised devastation of Katrina last year, Travolta decided to help out, so he flew down five tons of supplies...
Gabe Weisert Tom Cruise flies higher than the rest of us, literally. His Gulfstream IV arcs through the ether at 45,000 feet, roughly 10,000 feet above mo...  
more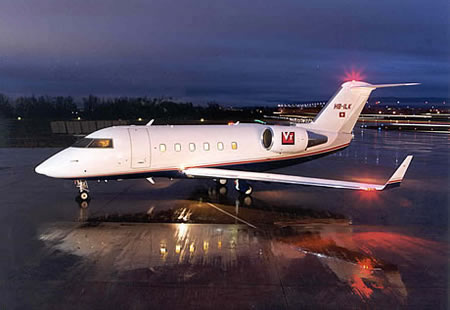 Steve Jobs Gulfstream V
Jobs received a Gulfstream as part of his compensation package when he returned to helm Apple in 1999. The company paid roughly $90 million dollars for the aircraft. Its tail number is registered to one Steve Jobs, care of Marmalade Skies.

 
 
 

Sergey Brin, Larry Page Boeing 767-200
Google co-founders Sergey Brin and Larry Page are customizing a Boeing 767-200 for private travel. Once some legal issues with the designer are resolved, Google One (not the official name) will feature separate state rooms for Sergey, Larry, and CEO Eric Schmidt, as well as seating for roughly 50 people.

 
 
 

Larry Ellison Gulfstream V
Larry Ellison flies between Malibu, Atherton, and his "spiritual homeland" of Japan in a $41 million dollar GV. In 2001, his late night landings miffed the authorities at San Jose International Airport (noise reduction rules). Ellison sued the airport and lost.

 
 
 

Mark Cuban Gulfstream V
Dallas Mavericks owner Mark Cuban bought his GV online in 1999, securing a Guinness Record for "the largest single e-commerce transaction." He takes advantage of his Gulfstream, licensed to "Radical Ventures LLC," to catch away games.

 
 
 

Oprah Winfrey Bombardier Global Express XRS
Ms. Winfrey recently joined the likes of Steven Spielberg and Bill Gates as the proud new owner of a Bombardier Global Express XRS jet. Purchased by her production company, Harpo, the Canadian-made jet features a leather interior and comfortably seats Oprah and nine friends.

 
 
 

Rupert Murdoch Boeing Business Jet
The truly titanic mogul's ride. Essentially a custom-made Boeing 737, there are currently 86 Boeing Business Jets in service. Most of them come standard with master bedrooms, full bathrooms (with showers), and banquet rooms. Mr. Murdoch uses his to jet between homes in Beijing, New York, and Lanai, Hawaii. Kirk Kerkorian is also a fan.

 
 
 

John Travolta Boeing 707-138
Mr. Travolta harbors a legendary love of flying. He aquired his customized Boeing 707 as part of a Qantas promotion; as an honorary pilot of the company, he personally flew the Australian soccer team to Germany for the 2006 World Cup. His 707 is registered under "Jett Clipper Johnny LLC."

 
 
 

Harrison Ford De Havilland Canada DHC-2 Beaver
Another well-known aviation enthusiast, Harrison Ford owns several planes and helicopters, but is partial to his De Havilland. The De Havilland Beaver stopped production over forty years ago, but is still a highly prized bush plane amongst collectors. Harrison Ford's plane is a former US military model restored by Kenmore Air.

 
 
 

Paul Allen Boeing 757
Mr. Allen owns two customized Boeing 757s -- one for personal use, and one for his sports teams (the Portland TrailBlazers and the Seattle Seahawks). Both are registered to Vulcan Aircraft Inc. But he may be setting his sights even higher; Allen was the sole investor behind Burt Rutan's SpaceShipOne suborbital commercial spacecraft.

 
 
 

Jim Carrey Gulfstream V
All this, too, can be yours. Jim Carrey enjoys his private jet, but he's also not averse to a little pocket change. Carrey leases his Gulfstream V, which he purchased in 2001, for $8,000 an hour.

 
 
 

[source: https://www.forbestraveler.com/jets-planes/celebrity-jets-story.html ]
(all people watching this list)
MORE LISTS
RECOMMENDED LISTS